It's finally finished! Feels good to close this chapter, since I put so much time and effort into it. Scaling up to 24 x 36 from a 4 x 6 color comp was a bit tricky. There's much more detail to put in, but I tried to stay loose at the same time. It turned out that the hardest part of the painting wasn't the bears, or the rocks, or the sunset coming through the trees, but the leaves on the trees. More specifically, the trees in the center. It felt like painting mashed potatoes.
I'm really happy with the way the bears turned out and the feeling of warm light throughout the painting. Also, glad that the fallen tree isn't too distracting.
Critiques and comments are welcome.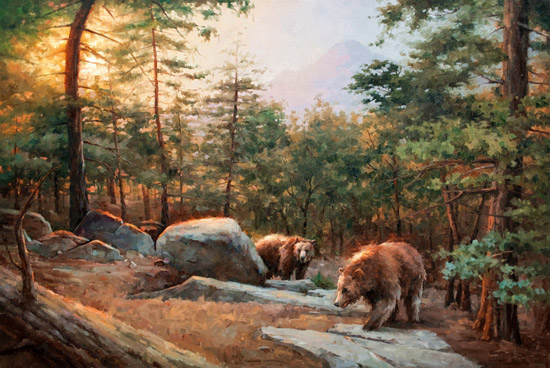 And here are a few closeups: