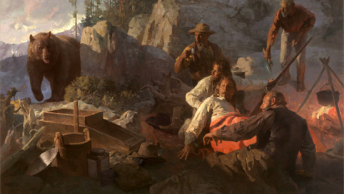 A few days ago I was every excited to find that all the paintings can be viewed online for the 2010 Masters of the West show at the Autry Museum. I'm not sure how long ago it was posted, but it must have been recently since it was only 3 months ago that Mian had his photo shoot. I visited the Mian Situ Gallery and Mrs. Situ told me that he just had his photo shoot in the gallery for a painting with mountain men and a bear. Ever since, I have been eagerly waiting to see the painting and how he handled the bear. Of course, it turned out beautifully… Mian is the master of storytelling.
I can't wait to see the painting in person. The show opens Saturday, February 6 and will remain on exhibit through Sunday, March 7, 2010.
Thank you Mrs. Situ for permission to use this image.
View all the artists at Autry National Center website
Visit Mian Situ's website or the Situ Art Gallery